Global News
Afloat in the Ocean, Expanding Islands of Trash
from the New York Times, 11/9/09
ABOARD THE ALGUITA, 1,000 miles northeast of Hawaii — In this remote patch of the Pacific Ocean, hundreds of miles from any national boundary, the detritus of human life is collecting in a swirling current so large that it defies precise measurement.
Light bulbs, bottle caps, toothbrushes, Popsicle sticks and tiny pieces of plastic, each the size of a grain of rice, inhabit the Pacific garbage patch, an area of widely dispersed trash that doubles in size every decade and is now believed to be roughly twice the size of Texas…Click here to read of this article.



Mumbai faces acute water shortage
from BBC News, 7/7/09
The authorities in the Indian city of Mumbai (Bombay) have reduced water supplies by 30% as it faces one of the worst water shortages in its history.
The cuts will affect supplies to hundreds of thousands of households as well as hospitals and hotels…Click here to read the rest article.



Flow Of Many Rivers In Decline
from Channel 8 WMTW.com/abc.com, 4/21/09
WASHINGTON — The flow of water in the world's largest rivers has declined over the past half-century, with significant changes found in about a third of the big rivers.
An analysis of 925 major rivers from 1948 to 2004 showed an overall decline…Click here to read the rest article.



Pro-privatisation plans of 5th World Water Forum Denounced
from International Viewpoint, April 2009
Given that we are in Turkey, we cannot ignore that this country provides a powerful example of the devastating impacts of destructive water management policies. The Turkish government has pushed for the privatization of both water services, watersheds and has plans to dam every river in the country. Four specific cases of destructive and risky dams in Turkey…Click here to read the rest article.



Bottled water sales starting to run dry
from The Independent, 3/23/09
A revolt against bottled water in restaurants is growing. Last year, figures showed that, after more than three decades of year-on-year growth, bottled water sales dropped by 9 per cent. Now a survey shows more people prefer tap water when they dine out…Click here to read the rest article.



Water scarcity 'now bigger threat than financial crisis'
from The Independent, 3/15/09
Humanity is facing "water bankruptcy" as a result of a crisis even greater than the financial meltdown now destabilising the global economy, two authoritative new reports show. They add that it is already beginning to take effect, and there will be no way of bailing the earth out of water scarcity…Click here to read the rest article.



Mapping future water stress
from BBC News, 2/1/09
HOW WATER AVAILABILITY MAY CHANGE, AS TEMPERATURES, POPULATION AND INDUSTRIALISATION INCREASE
These projections of per-capita water availability were made by Martina Floerke and colleagues at the University of Kassel in Germany.
They combined different types of forecast to obtain their results. A computer model of climate change developed by the UK Met Office Hadley Centre generates projections of how temperatures and rainfall are likely to change in the future. Click here to read the rest of the article and view their interactive maps.



The pending scramble for water
from BBC News, 2/1/09
In 2008, Saudi Arabia ceased to be self sufficient in wheat production.
It is looking to access land overseas to grow crops, possibly in Pakistan or the Horn of Africa…Click here to read the rest article.


Bolivian Voters Approve a Human Right to Water
from Unitarian Universalist Service Committee, 1/29/09
Human rights activists are celebrating a major victory in the global struggle for water justice after voters in Bolivia approved a new constitution that enshrines access to safe, sufficient, and affordable water as a basic human right. Click here to read the rest of this article.


City council passes bag fee and bottle ban
from the Toronto Star, 12/2/08
Toronto shoppers will start paying five cents for throw-away plastic shopping bags starting June 1, Toronto council has decided.
And despite a determined lobby from bottled water companies to block the measure, councillors voted to ban the sale or distribution of bottled water immediately at City Hall and the city's civic centres where contracts permit…Click here to read the rest of this article.


Troubled waters: Why we fell out of love with bottled water (and how the industry plans to win us back)
from the Independant, 11/29/08
Bottled water. We all hate it now, don't we? Few products can rival its spectacular fall from grace. Government ministers rail against it ("morally unacceptable" in the pleasingly direct words of the environment minister, Phil Woolas) and shoppers no longer think it is fashionable…Click here to read the rest of this article.



Why Big Banks May Be Trying to Buy up Your Public Water System
from Alternet.org, 10/31/08
In uncertain economic and environmental times, big banks and financial groups are buying public water systems as safe investments.
Water is the new oil for global financial powerhouses and water is being commoditized and traded in global stock exchanges…Click here to read the rest of the article.



From CNN : Thirsty World Desperate Quest for Water: An article and Photo Essay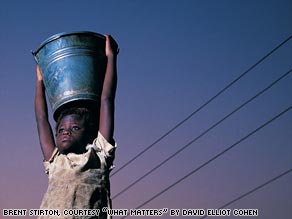 Council of Canadians' submission to the Toronto District School Board in advance of a vote on whether to ban bottled water sales in their 560 schools
from the Council of Canadiens, 6/13/08
Click here to download this pdf.
The water crisis looms large over our planet
from current.com, 4/28/08
It is a tragic scenario we see playing out on our only home. With new predictions from scientists that Arctic glaciers may be gone within 23 years and glaciers around the world melting three times faster than worse case scenatios, what are we going to do to preserve the dwindling fresh water resources we are certain to see strained in the next fifteen to twenty years even more than they are now?…Click here to read the rest of this article.






Sell the rain: How the privatization of water caused riots in Cochabamba, Bolivia
from the CBC News, 2/4/03
In South America, private companies have taken over municipal water supplies in at least half a dozen countries, but there's one city where the takeover didn't go as planned…Click here to read the rest of the article.



Circle of Blue – Water News